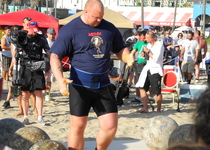 reddit AMA March 2014
Strongest Man in the World? I am Hafþór Júlíus "Thor" Björnsson of Iceland, Ask Me Anything.
reddit AMA November 2014
Mick Foley, hardcore Santa. AMA!
reddit AMA October 2014
IamA NFL Football player and Old Spice spokesman, AMAA. I am AJ Green, and seriously, who stole ...